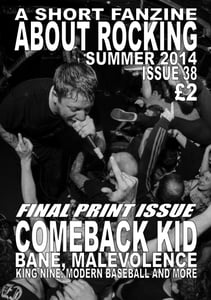 £

1.00
This is the final print issue of A Short Fanzine About Rocking. It's out now! The zine includes interviews with Comeback Kid, Bane, Brutality Will Prevail, More Than Life, Modern Baseball, King Nine, Malevolence, Forsaken, War Charge, Losing Sleep and To The Wind.
Plus loads of gig/record/zine reviews and a whole host of columns.
88 pages in all for just £1!
POSTAGE - FOR UK, PLEASE SELECT 'UNITED KINGDOM'. PLEASE SELECT 'GERMANY' FOR EUROPE EXCEPT THE UK. FOR OUTSIDE EUROPE, PLEASE SELECT 'EVERYWHERE ELSE'.
Any questions, e-mail ashortfanzineaboutrocking@yahoo.co.uk.
If you're interested in stocking the zine on your distro, in a shop or on your merch, wholesale (i.e. cheap) rates are available for bulk orders. E-mail me on the address above.