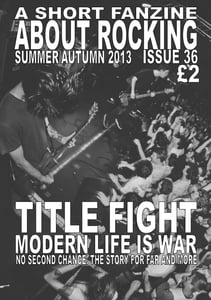 £

2.00
This is the summer/autumn 2013 issue of A Short Fanzine About Rocking, and it's SOLD OUT from here - check the stockists page on http://ashortfanzineaboutrocking.tumblr.com for a list of places which might still have copies.
The zine includes interviews with Title Fight, Modern Life Is War, The Mongoloids, The Story So Far, Daylight, Atonement Records, No Second Chance and Look My Way. Plus a shedload of gig, record and fanzine reviews, and a bunch of columns.
80 pages in all for just £2!
POSTAGE - FOR UK, PLEASE SELECT 'UNITED KINGDOM'. PLEASE SELECT 'GERMANY' FOR EUROPE EXCEPT THE UK. FOR OUTSIDE EUROPE, PLEASE SELECT 'EVERYWHERE ELSE'.
Any questions, e-mail ashortfanzineaboutrocking@yahoo.co.uk.
If you're interested in stocking the zine on your distro, in a shop or on your merch, wholesale (i.e. cheap) rates are available for bulk orders. E-mail me on the address above.