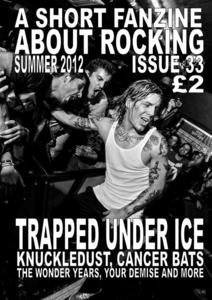 £

1.00
This is the brand new summer 2012 issue of A Short Fanzine About Rocking. It's out NOW!
A bumper 88 pages, including interviews with all these bands: Trapped Under Ice, Cancer Bats, Your Demise, Knuckledust, The Wonder Years, Set Your Goals, Pariso, Hang The Bastard, Gnarwolves, Frustration, Landscapes and The Beautiful Ones.
Plus a shedload of gig/record/zine reviews and a bunch of columns.
All for just £2 (plus postage)!
POSTAGE - FOR UK, PLEASE SELECT 'UNITED KINGDOM'. PLEASE SELECT 'GERMANY' FOR EUROPE EXCEPT THE UK. FOR OUTSIDE EUROPE, PLEASE SELECT 'EVERYWHERE ELSE'.
Any questions, e-mail ashortfanzineaboutrocking@yahoo.co.uk
If you're interested in stocking the zine on your distro, in a shop or on your merch, wholesale (i.e. cheap) rates are available for bulk orders. E-mail me on the address above.